Klara Peterson & Axel Bäck, Baggensudden, Stockholm
Axel and Klara loves to drink good stuff and wanted to try out what they could do with Swedish apples.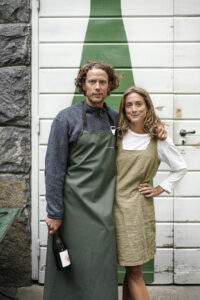 In 2016 they made their first small batch cider from apples picked in gardens in their neighborhood. It went alright, but they felt they needed to learn more to take the result to another level.
That said, they went up to Jämtland and Eldrimmner for a year, to dive deeper into the world of fruit and what you can do with it. During this year they had a lot of work practice and went making cider with Agathe Letelier and the master Cyril Zangs in Normandie and Aeblerov in Denmark. They also made wine in the Basque country, Kombucha in Berkeley, San Francisco and beer in Jämtland.
So, in 2018 they were well prepared, and managed to produce 800 liter of lovely cider.
They pick wild apples in their neighborhoods just outside Stockholm and also different suitable varieties in Baskemölla, Skåne. All apples grow naturally without using pesticides or herbicides. Axel and Klara pick everything by hand and harvest during late autumn.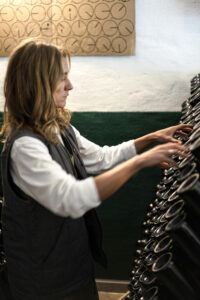 The apples are stored for a few weeks in order to get even riper.
Selection is an important thing in their work and they sort the apples before pressing.
They apply the same approach as in natural winemaking for their cider, fermentation with natural yeasts and no sulfites added. They finish the fermentation in bottle without any dosage, so it's apple 'Petnat'.
This cider is fresh, fruity, clean and very well balanced. Very much the style of cider we enjoy drinking a lot of.
Brut 2020
Soil: Clay and Sand
Age of trees: Over 30 years
Fruit: Cox Orange, Ingrid Marie  and unspecified wild apples.
Production: Handpicked in Skåne and the Stockholm area.
After pressing, a natural alcoholic fermentation starts on fiberglass tank and oak barrels. During that time, the juice is racked from its lees several times. The process is natural without any additive yeast, sulfites or dosage for fermentation after bottling. The cider is unfiltered.
Bottled in March and disgorged in September 2021.
600 bottles produced.
(750ml, 6,8 % alc.)
---
Orwell 2018
Soil: Clay and Sand
Age of trees: over 30 years
Fruit: Ingrid Marie, Cox Pomona, unspecified wild apples
Production: Direct press after crushing 24th of November. 9 months wild fermentation on fiberglass tank and oak barrels. Bottled 29th of August 2019 and aged 11 months on its lees in bottle. Disgorged in January 2020.