Långviks krydderi, Möja Stockholm
Joakim kihlberg bought a house in the Swedish archipelago ten years ago. According to himself it could've been any Island but there was always something special about Möja, it was love at first sight. This is where he met the mysterious and adventurous sailor Karl Ivar 'Jeppe' Lindfors. Jeppe lived his whole life in the Swedish archipelago and inspired Jocke to start making traditional Swedish spirits which led to Långviks Krydderi.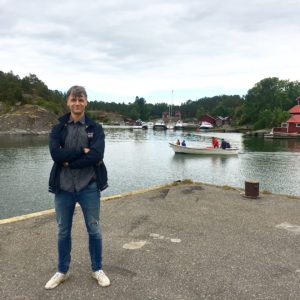 The inspiration behind their products came from what Jocke calls the green gold, Spanish runaway. A green herb growing wildly all over Möja.The flavour reminds us of anis and has a natural sweetness. It's been there for as long as anyone can remember and used to be part of the everyday life, in cooking to medical uses. Today it's considered more of a well spread weed.
Jocke is well known for his aquavits, but he also makes liqueurs, vodka and gin. He is always looking for new projects and loves to develop new and exiting products. Sprithyllan gin is a close collaboration between Dryckesbutiken and Långviks Krydderi. With a dream of making our own gin inspired from botanicals growing in Sweden, we got in contact with Joakim Kihlberg early 2017 to create a dry gin with deep juniper flavor and a green herby note.
Långviks Krydderi Citronlikör, 25% abv
Made from zest of bio and organic grown lemons from Italy and Spain, macerated in neutral spirit for a month and then rested on steel tanks for 8 months before bottled.
Långviks Krydderi Punsch, 29% abv
Made with a Jamaican rum base and Joakims owned oak distillate, made from neutral spirits aged on oak for 7 years. flavored with arrack från Indonesia and sweet cicely.
Sprithyllan Gin, 40,5 % abv
The Spanish runaway is not the only thing growing on Möja, you can find all sorts of things. Berries, various herbs and flowers – witch obviously makes it the perfect place to make a gin. Sprithyllans gin is inspired from nature and the main ingredients in this gin is juniper, sweet cicely and peppermint – all of them growing just outside the distillery.
Sprithyllan gin comes in a bottle of 50 cl and has a alcohol content of 40,5 %
Möja Vodka, 38 % abv
Möja Vodka is based on the wild growing herb sweet cicely (myrris orodata). The herb is hand picked on the island and refined to an essence used as flavouring. The result is an elegant vodka with a subtle anise touch.
---
Sprithyllans bottled mini-drinks
Sprithyllan has developed three pre-mixed drinks in 5 cl bottles that are ready to be served without having to put out any extra work to it. Perfect for restaurants without bars, events, hotel mini-bars, hikes or any other occasion where time and equipment is restricted. The drinks are made in a collaboration with Långviks krydderi at Möja, serve them on ice or chilled for best experience.
Negroni
It all started with our favourite drink, Negroni. It is a drink with a long history and it is well established in the industry. It's a drink that you can play around with in all eternity, three components that will change the drink completely depending on brands. The drink includes gin, sweet vermouth and bitter liqueur.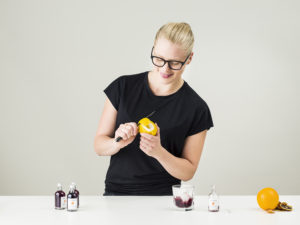 First out is our signature product: Sprithyllan gin, made in a collaboration between Sprithyllan and Långviks krydderi. It is distilled at Möja, in the Swedish archipelago. It is a beautiful Island full of life with lots of herbs, berries and fruits growing wildly. The main ingredients are juniper (of course), sweet cicely and peppermint – all of them growing at Möja. This gin is dry with a straightforward juniper flavor composed with green herby aromas, leaving you with a fresh, minty flavor.
Next up is the vermouth. Together with Andrea Scovero, a winemaker in northern Italy, we've made the perfect sweet vermouth for a Negroni. The base is 2016 barbera wine spiced up with lemon zest, rhubarb, gentian and cinnamon. Classic spices for vermouths but with a fruiter touch. The vermouth plays a big part in this drink and makes it a wine driven, flirty Negroni with the perfect balance of juniper aromas and a bitter lingering aftertaste.
For the bitter liquor we use Mondino Baverese from Bayern Germany, made with ingredients picked at the foot of the alps. Bitter orange, gentian and rhubarb plays a big role in this amaro. The bitter element is balances with the citrusy components and has a great herby flavor in the end, making it last perfect with Sprithyllan gin.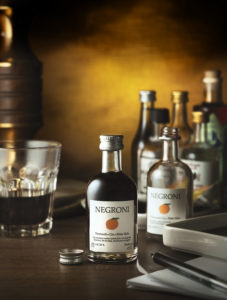 Sprithyllan Negroni is the first drink in our series of 'Bottled Cocktails' and comes in a 5 cl bottle with the ABV of 26 %. Served best on ice with a lemon zest.
---
Negroni 2.0
We are bringing it all back home with our updated Negroni made from mainly Swedish ingredients. Here you'll find Spriteriet's Red Vermouth and Aronia Bitter all mixed up with Sprithyllan Dry Gin.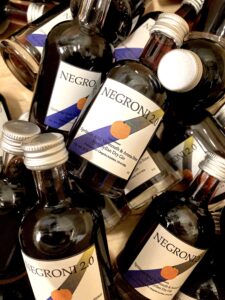 ---
Dry Martini
Our dry martini is mixed with the same gin describes above, Sprithyllan gin, from Långviks krydderi. A gin that is dry with a straightforward juniper flavor composed with peppermint and sweet cicely from Möja in the Stockholm archipelago.
The vermouth is made from natural wine imported by Dryckesbutiken. Freshness and structure comes from the Bordeaux grape Semillion and the flowery flirty notes come from Rhône grape Clariette. The wine blend is fortified with Swedish aquavit with traditional flavors of cumin, anise and fennel. To match the gin, the vermouth is also flavored with the same green notes as the gin – sweet cicely and peppermint. The martini is a good pre dinner drink with distinct gin characters and herby notes, that works well on its own or together with salty snacks.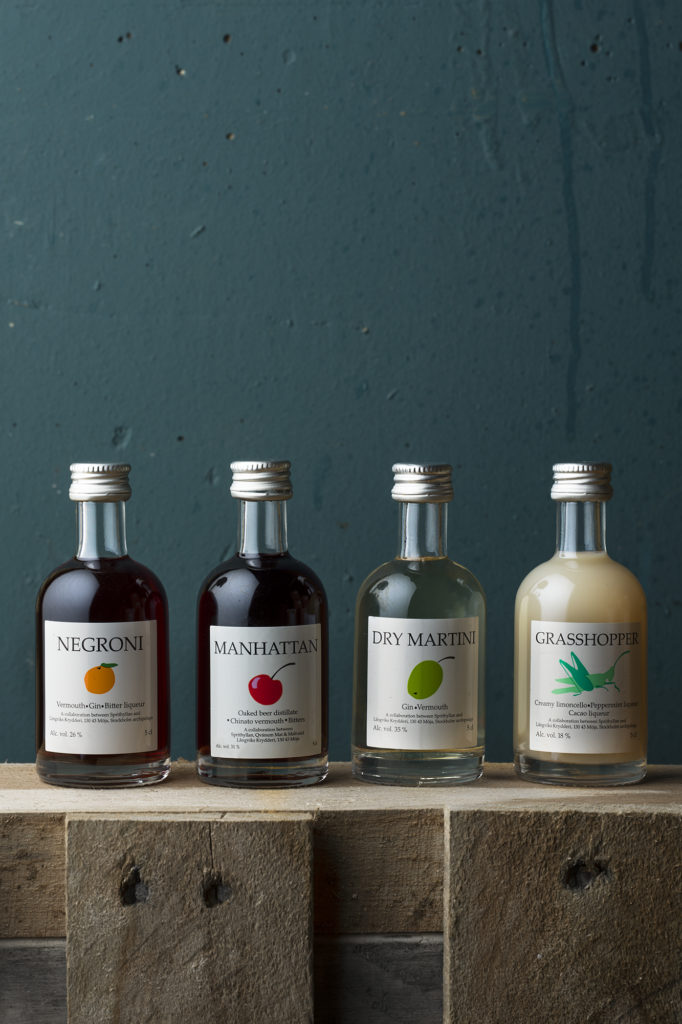 Sprithyllan Dry Martini is the second drink in our series of 'Bottled Cocktails' and comes in a 5 cl bottle with the ABV of 35 %. Served best straight from the freezer with your choice of lemon twist or olive.

---
Grasshopper
Our twist of the creamy after dinner drink made by Philip Guichet in the 20th century. A drink originally made with three ingredients peppermint liqueur, cacao liqueur and cream. In our version we use staibano smooth, the creamy limoncello from the Amalfi coast, as third ingredients to get the freshness from lemons into the drink. The peppermint and cacao liqueur is produced by Joakim Kihlberg at Långviks krydderi and are developed to be the perfect match for our version of this drink.
Sprithyllan Grasshopper is the third drink in our series of 'Bottled Cocktails' and comes in a 5 cl bottle with the ABV of 18 %. Served best chilled from the fridge or on ice.
---
Manhattan
Our version of the classic drink Manhattan!
A drink originally made with rye whisky, but for us, the given choice was to use a Swedish complement instead. This drink is made with a beer distillate from Qvänum Mat & Malt and has rested in Swedish oak barrels for three years. It is mixed together with a chinato from Italian wine producer Andrea Scovero, flavored with cherries and star anise giving it a fruitier style with a distinct herby finish. A drink with bready, hoppy flavors that is wine driven and fruity, that we like to drink straight up before the dinner or after dinner to clean up the palate.