Grosperrin, Cognac
Jean Grosperrin used to be a cognac broker. A broker's role is to evaluate the quality of the cognac and to introduce the producer and buyer to one another. His profession took him to many cellars in order to estimate the value of different batches. Most wine growers in the region distil their own grapes and keep some barrels of cognac in their cellars, like many generations has done before them. These family treasures are rarely put on the market for sale, but is what Jean and his son Guilhem look for in each of the six cognac terroirs. Many of the oldest cognacs are stocked in government controlled warehouses in cognac and in their own cellars controlled by supervised officials which makes them guaranteed of the age.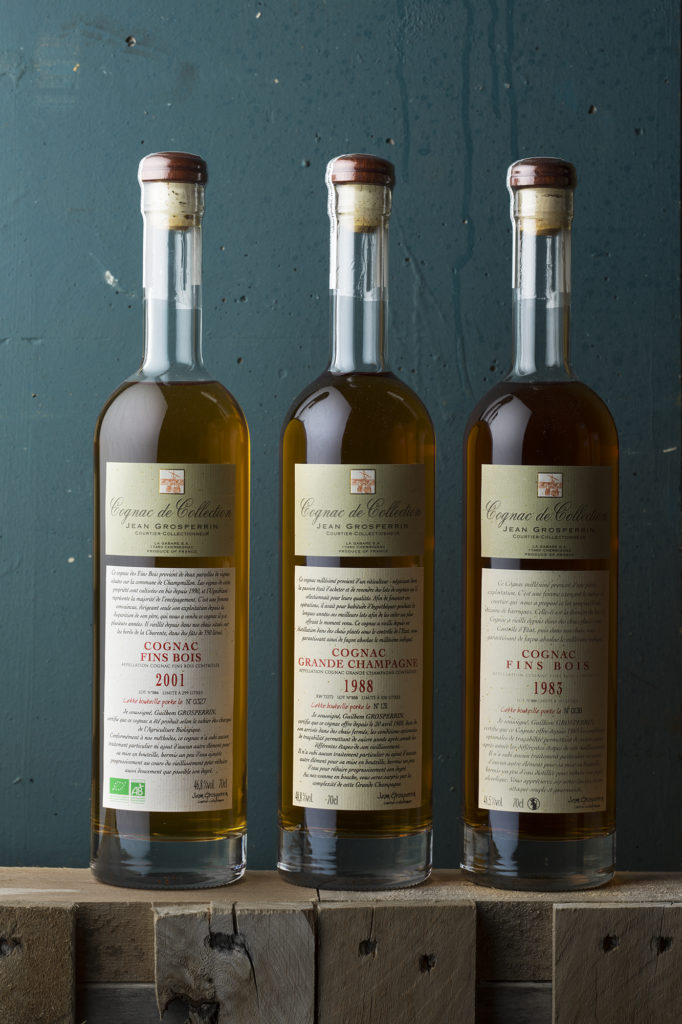 Today the selection from Jean Grosperrin is more than 700 pieces of very old cognac, from the turn of the 19th century to the 21st century. They offer cognacs that you might not have had the opportunity to come across with high quality and authentic.
Mestreau VS 40%
A blend of different cognacs aged a minimum of 4 years in oak casks in our cellars, located on the bank of the Charente river. It's a relatively young cognac, but older than the usual VS (2 years old). It's from Petite Champagne and Fins Bois areas. It contains about 1% of cane sugar to make it smoother. 
---
Mestreau VSOP 40%
A blend of about 10 different cognacs from the Petite Champagne area, mainly from Archiac region. It aged the first 4 years in oak casks from Taransaud in our cellars, then reduced at 43% with some "Petites eaux" (cognac from the same cru which have been water reduced about 10 years ago at 30% before to age in small casks). At this stage, I blend it with older cognacs (about 7 to 15 years old) for about 15% of the total volume, and the result is then aged in cask for another year. The sixth year, the different casks are blended in a 3.000 liter oak tank and the degree of alcohol is adjusted to 41%. Bottled after about 6 month of maturation in this tank, it doesn't contain any sugar, caramel or boisé. 
---
Mestreau XO n°28 Fin Champagne 42,5%
An exceptional old cognac from Fine Champagne. The XO N.28 is the result of the blend of many very old cognacs, like the 1967 Grande Champagne, 1969 Petite Champagne or 1972 Grande Champagne (the youngest). It works on a solera basis of the previous blend of XO N.28, which means that even older cognacs are part of the blend, so the average age is continually increasing over the time. 
---
Cépages Grande Champagne 42%
This Cognac is made made with a traditional method where various grape varieties are mixed, Folle Blanche, Colombard and Ugni Blanc. The different varieties are vinified, distilled and aged separately. Vintages are 2011, 2012, 2013 and 2014 from a single Grand Champagne estate. Light colored with grape, honey, linden and butter. On the palate, flower, apples and spice. Soft texture and well-balanced freshness.
---
2001 Fins Bois 46,9 %
Comes from a small farm in the Finns Bois region called "La petit Chapelle" located near the village Champmillon. The plots were the cognac comes from is organic since 1990 and taken care of by a lady who took it over during this time.
Hints of peach and apricot on the nose with a fresh palate and a complex finish.
---
1990 Fins Bois 45,7%
Comes from a winegrower from the village of Siecq, between Rouillac and Matha. One barrel kept from this vintage. On the nose you´ll find vinous and musky aromas from Semillon. Flavors of nutmeg and liqourice. A rather rustic Cognac full of charm.
---
1992 Petite Champagne 46,6%
This Vintage cognac comes from a small farm, and from a 12-hectare plot of vines located on one of the most beautiful terroir of Petite Champagne, in Salles-de- Barbezieux. This small traditional estate produces wine and cereals, and also takes care of a few animals. The vines grow on chalky grounds, making the wines very acidic and direct, which in turn will give the eaux-de-vie great complexity over time. Mainly based on Ugni Blanc, this cognac was distilled in a very small alembic on the estate.
---
1979 Moûts Mutés au Cognac 17,5%
The wine must have been fortified with cognac to stop the ongoing fermentation and keeping the last sugars. Then it's aged in old oak barrels before bottled. This batch was produces in the Borderies region with must from 1979 and cognac from 1978. It's kept in Grosperrin's basement since 2013. It has little sugar and strong acidity with ripe fruits and sustained minerality.