Domaine Rousset Peyraguey, Preignac
It's not every day you find biodynamic Sauternes with no additives at all – Alain Dejean is quite a rebel here. Born and raised at the Domaine, which has been in his mother's family for 7 generations, he started to work with his parents in 1995. In 1998 he expanded the Domaine from 6,5 hectares to 10,3 hectares. They have in total 58 parcels, spread out on 3 different types of geologic soils. One is just next to their winery (close to famous guys such as Château d'Yquem), one is the Barsac and one just outside Fargues. All parcels can be reached within 20 minutes with tractor though, so no far distances.
The region covers 2000 hectares, spread out on 160 producers.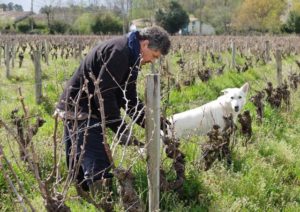 Alain chose in 2008 to skip the AOC Sauternes and has since then been doing 'Vin de France'.
He didn't want to adjust his wines in the way the INAO demands to get the AOC, which would mean to make filtration, use of Sulphur and other additives. His philosophy is that a healthy strong soil gives healthy, strong wines which survive without any additives.
Alain ages his wines in cellars with no temperature control. He doesn't touch the wines during fermentation and ageing in the barrels, except one racking after one year, neither does he top up the barrels.
The wines are rich, complex, sweet (of course) with lively balanced acidity and fresh finish. 
2010 Moelleux 'De Laborde de Solis'
Soil: Chalky gravel and sand, from the area just around the vinery.
Grape: 80% Sémillon, 15% Sauvignon blanc, 5% Muscadelle
Appellation: Vin de France
Age of Vines: Planted 1967
Vinification: Direct press and put in barrel for fermentation which stops naturally. The wine was removed from the lees after one year to rest in another barrel for 2 years. After this, bottling took place. (90 gr)
---
2011 Crème de Tête tithiara
 Soil: Chalky gravel and sand, from the area just around the vinery.
Grape: 80% Sémillon, 15% Sauvignon blanc, 5% Muscadelle
Appellation: Vin de France
Age of Vines: Planted 1963
Vinification: Direct press and put in barrel for fermentation which stops naturally. The wine is removed from the lees after one year to rest in barrels for 3 years before bottling. (150 gr)
---
2010 Cuvée Aisthése
 Soil: Chalky gravel and sand, from the area just around the vinery.
Grape: 80% Sémillon, 15% Sauvignon blanc, 5% Muscadelle
Appellation: Vin de France
Age of Vines: Planted 1960
Vinification: Direct press and put in barrel for fermentation which stops naturally. The wine is removed from the lees after one year to rest in barrels for 6 years, before bottling takes place. (130 gr)
---
2010 Oxydatif
Soil: Chalky gravel and sand, from the area just around the vinery.
Grape: 80% Sémillon, 15% Sauvignon blanc, 5% Muscadelle
Appellation: Vin de France
     Age of Vines: Planted 1967
Vinification: Direct press and put in barrel for fermentation which stops naturally. The wine was removed from the lees after one year to rest in another barrel for 8 years. After this bottling took place. (170 gr)
---
2013 Puphluns 
Soil: Chalky gravel and sand, from the area just around the vinery.
Grape: 80% Sémillon, 15% Sauvignon blanc, 5% Muscadelle
Appellation: Vin de France
Age of Vines: Planted in 1967
Vinification: Direct press and put in barrel for fermentation which stops naturally. The wine was removed from the lees after one year to rest in another barrel for 5 years. After this bottling took place. (130 gr)