Domaine des Miquettes, Saint Joseph
Before Paul Estève and Chrystelle Varielle decided to create their own domaine in 2003, they were working for various, un-famous producers within the Rhône valley who sold their grapes to the co-ops and were living seasonal workers free-spirit life.
We're so happy that they decided to get a little more settled in one place and do their own thing (still being hippies though). Although they use all their 3,5 hectares, it's not nearly enough to cover the demand for these admirable wines.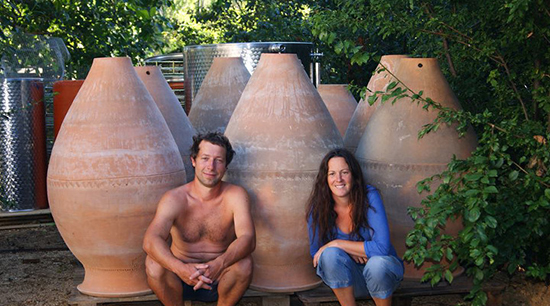 Their farm is situated in the small village of Cheminas in the south of St Joseph, on a plateau close to Tournon. Apart from making wines, they also have a small farm with some pigs, doves, hens and fruits. They also make their own charcuterie, which only some lucky people get to try, and Paul makes good beer for themselves and their friends. They're also working on opening a wine bar in the next-door village Sécheras, where they bought a new cellar for their red wines in 2017, which had a suitable bar-house that came with it.
They have been experimenting with making Syrah on amphora for quite a while and with such a great success that almost all their wines are made in amphora since 2011. They're managing their vineyards mainly with horse and have been working organically since start, and as natural as possible in both vineyards and winery since 2008. Paul started to plant the Madloba vineyard 14 years ago and chose an old clone of Syrah, selection massale. This steep terraced vineyard gets much stronger winds than their other St Joseph vineyard on the top and the wines really end up differently. 13 years ago they also planted 0,5 hectares of Syrah in Ardèche, just above the village of Arlebosc, first vintage made is from 2015.
Last planting made was with various Georgian varieties just around their house and we are very curious to see the results of this in the future.
The wines are true, pure, elegant and have a very fine expression of Syrah!
2021 Ti' Blanc
Soil: Sand and granitic mica schist, 350-meters altitude
Grape: 60% Viognier 40% Marsanne
Appellation: Vin de France
Age of Vines: Planted 2006
Vinification: Direct press followed by fermentation and ageing on the lees in amphora before bottling in end of May 2022.
---
2021 Ti' Rouge
Soil: Sand and granitic mica schist and gneiss on 250-400 meters altitude, both their St Jo vineyards and the vineyard just above the village of Arlebosc.
Grape: Syrah
Appellation: Vin de France
Age of Vines: Planted 1961-2005
Vinification: Destemmed then fermented for 3 weeks in open vats. Gently pressed and aged 8 months in stainless steel tanks and amphoras before bottling.