Château de Léberon & Domaine D'Aurensan, Ténarèse
Since 2014 Caroline Rozès has been in charge of the cellars of this 2 domaines in Gascogne.
She is the youngest in the family and was previously doing 10 years in the perfume industry in Paris. One day she realized the most beautiful fragrance she could promote was the Armagnacs made by her family.
Her sister Sophie and their father Bernard is responsible for the work in the vineyards. Bernard has been working in the vineyards and cellars for over 50 years now, so he's been a good teacher for his kids. Right now they are working with converting the domains to organic viticulture.
The luxury with 2 domaines springs from the marriage between Bernard and the sisters mother. Domaine d'Aurensan comes from their mother and Château Léberon from Bernard. They use no filtration, coloring, sugar or other additives to betray the identity of the terroir and this is very rare when it comes to Armagnac.
Domaine d'Aurensan
 This domaine consists of 5 hectares planted with Ugni Blanc, Colombard, Folle Blanche and the nearly forgotten Plant de Graisse.
The soil is chalky clay and all vineyards are on a slope facing south west. The harvest takes place earlier than what we are used to when making 'normal' wine, to be able to produce a fine Armagnac, you want to have a high degree of acidity and a low alcohol. After natural fermentation is done, the double distillation takes place at the domaine, in an Armagnac pot still.
The cellars are very humid, which favors a long aging. All the oak barrels are made of wood from the domaine. Bottling is made by hand in the cellars on demand, and this is the moment when the aging of the Armagnac is fixed.
The search for the purest expression of the land is very important to the family, and that what's they try to create when they make the blending. They would never consider blending to make a 'standardized' taste. The 20 ans Armagnac bottles today will not taste the same as the one bottled 2 years ago.
-'We produce Armagnac as a vine-grower, not as a brand'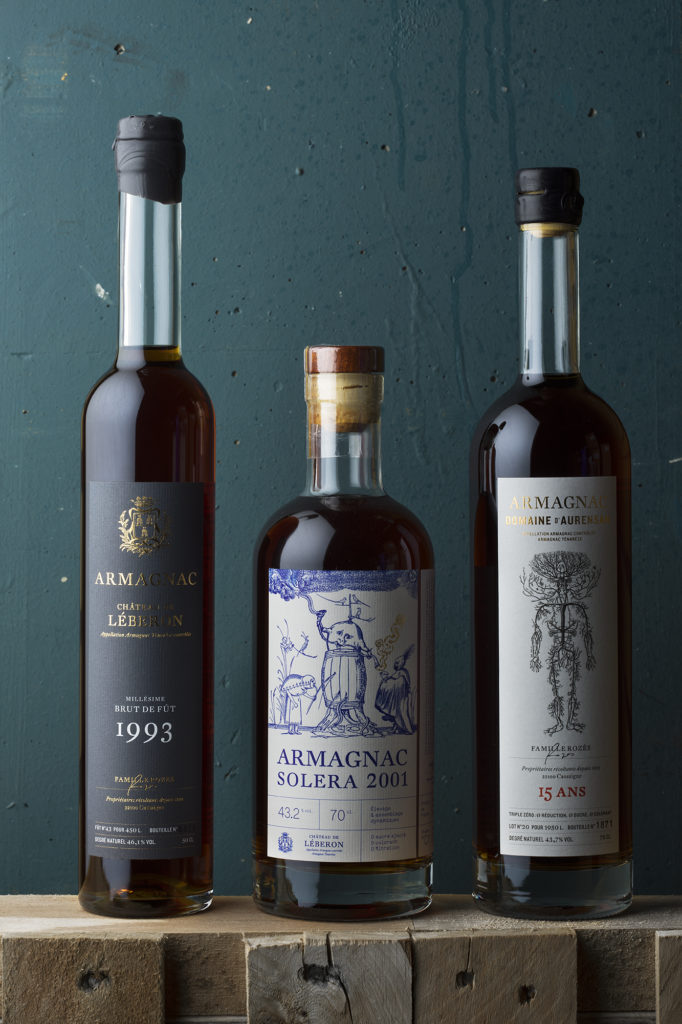 Domaine d'Aurensan 15 ans
 A very beautiful golden color with copper tints. The Armagnac is of great aromatic clearness and it has kept a certain freshness. The nose is intense with notes of dried fruits, almond, apricot and stones. The finish is harmonious and generous. Pure, frank and perfectly balanced.
Batch: 24
Production : 670 Liters
Alcohol content: 43,7%
---
Les Carré des Fantômes
On the palate, the attack is powerful and full of freshness. It immediately reveals notes of fleshy and juicy fruits (pear, apricot, peach) … It then evolves into smoother aromas such as honey and linden-tree blossom notes.
A fine eau-de-vie that offers both freshness and unprecedented aromatic richness.
No sugar or coloring added. No filtration.

Grape varieties: Plant de Graisse, Meslier St Francois, Mauzac blanc,
Mauzac rosé, Clairette de Gascogne and Jurancon Blanc.
Ageing: This is the very first release of this blend.  It is vintage 2018 that was distilled the same year and was bottled in 2020. 2 years of ageing.
Alcohol content: 46%