Cascina delle Rose, Barbaresco – Piedmont
Giovanno and Italo farms 3.6 hectares of vineyards in Rio Sordo and Tre Stelle together with their sons, Davide and Riccardo. Giovannos grandparents bought this house after the war when they fell in love with the beautiful view of the hills, surrounded by the Alps. With great memories from her childhood, Giovanno gladly took over the winery in 1974 with her husband. The two different 'crus' are located just outside the winery, with a stunning view over the village of Barbaresco and since a few years back they also have a bed and breakfast at the estate. They are also farming hazelnuts around the vineyards to help them maintain a good eco system.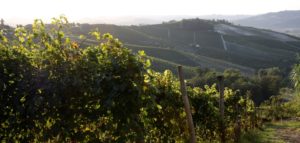 Both these grappas are white, only aged on bottle after distillation. This is not for the ones that search for the real tough stuff. They have both fine, flowery aromatics and refined, straightforward fruity taste with a round long finish. The first one is made from grape skins from their wine 'Donna Elena' Barbera and the other one from Nebbiolo skins, both from the parcel of Tre Stelle. They come in bottles of 500 ml and has a alcohol content of 42 % .