We started on one of those horrible early Monday morning flights from Arlanda to Paris. After huge amounts of coffee, we made the 230km route in a cheap rental car down to Les Montils, Touraine. It's a nice time to go, the harvest is iver and wines are peacefully fermenting in the cellars, which means peacefully producers with some time to hang out with us.
First meeting in Les Montils: Pierre-Olivier Bonhomme.
He has moved out of his old garage of a winery and now have a pretty decent winery further down the village. We tasted some of the 2016 under fermentation, and also his white nouveau of Sauvignon that's now finished. So first time we will see some white nouveau the 3:d Thursday in November for the Fête de Vins Nouveau in Sweden. Good stuff! He has, as many others a very small crop this very complicated vintage of 2016, but has managed to buy some good grapes from friends within the region to be able to make a production enough to survive on.
Also the 2015 wines who are soon to be in bottle gave us a lot of joy and energy and we look forward to receive his POB Sauvignon, Cour Cheverny and Thesée Sauvignon!
After we finished the tasting at Pierre-Os' we stayed in the village, but headed over to Puzelat's place (Clos du Tue Boeuf).

Tasted some of the 2015 that's still on barrel (Romorantin and Brin de Chevre) and then had the joy to try the 2015 Qvevri Chenin on bottle. That wine was in absolute harmony, mineral, pure, bright and shining with a very fine and nice structure that doesn't scream of the maceration. Happy that we will receive a small part of that tiny production.  To get through the 2016 with its minuscular volumes Thiery managed to source some grapes from famous Beaujolais winegrower Remi Dufaitre. He will also release a red nouveau 2016, soon to be seen at "harvest party" in Sweden.
Day 2, Candé sur Beuvron. This meeting I've really been looking forward too! Christian Venier, the Vigneron that's really taking an active stand away from all kind of modern communication… I gave up calling and e-mailing him after a few months and asked his cousin, the more famed Thierry Puzelat, to arrange a meeting instead. And it was so worth over 50 calls with no answer, what a nice guy, and fantastic wines!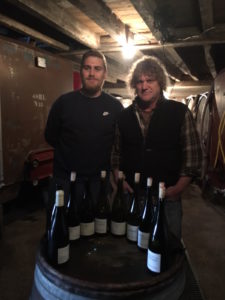 He started 20 years ago with 2ha, inherited from his parents. Having just over 6ha in Cheverny, that he has been working on with both body and soul now for 20 years shows in the bottle. He makes mainly Menu Pineau for whites (thanks god, there is too little of that grape around) and for red, Pinot Noir, Gamay and some Cabernet Franc. Everything more or less vinified on stainless steel (just some wood used for some parts of the Pinot Noir) and a few concrete tanks. The wines, so perfumed, full of vibrant fruit, pure and with a nice mineral finish.
If I would get his reds blind I would guess famous, good producer of northern Burgundy. We will soon see the 2015 vintage in Sweden, and we can't wait. 2016 was crap in terms of volumes for Christian as well, but the quality is fantastic.
We continued and reached Montlouis at noon to make a quick stop with Frantz Saumon. Tasted his 2015 Petnat Chenin Montlouis, 2015 Mineral+ that's just been bottled, together with 2015 Sauvignon/Roussanne. Then a small preview of the 2015 Clos du Chêne that will be bottled in April 2017. Man I love his Chenins! Now you might wonder what that Roussanne does in Montlouis. Answer: bought by friend in northern Rhône, to enable Frantz to have some wine to sell because he also lost more or less everything this vintage. Last time I saw him, this May, he just came back from Gaillac where he had searched for Sauvignon that could suit to blend with the few grapes he fore sought he would get in 2016. The result we'll see in 2017. By the way, Sauvignon and Roussanne is not such a bad idea.
Last stop, Xavier Courant, Domaine l'Oubliee. We took a tour in his beautiful vineyards, covered with beautiful October colors. 5hl/ha is what 2016 gave him, and he did his last day of harvest only 5 days ago. The Cabernets still fermenting with the skins for around 3 weeks more in enclosed stainless steel tanks. This enables him to make a minimal extraction because there is no need for 'pigeage', only 'infusion' of the skins. 2015 of Notre Histoire and Merci La Vie soon to be released were both fresher than the previous vintage, and ready to drink. 2014 Tenuee de Soirée will be launched in the coming spring and promise to have a long future.
Day:3, Saumur 'Grand Cru'. We drove up on the tiny 'Rue de Porte St Jean' and was greeted by Sylvain that took us straight down to his over 400 years old cave to taste the barrels.
La Perlée and Les Cormiers 2014 together with Le Sault Mignon and Porte Saint Jean 2015 from the barrels tasted great! Sylvain was in a good mood after the hard work of harvest and opened up more or less all wines he has made since his first vintage 2010. From year one, his wines have been so balanced, pure, elegant, dense and full of vibrant fruit with great length. 2016 for him wasn't as bad as in some other parts, but lost more than half of the normal production.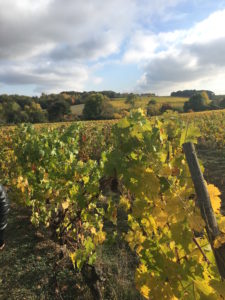 Only about an hour from Sylvain you find renowned Domaine Mosse, in the small village of Saint-Lambert-du-Lattay, Anjou. Agnes and René Mosse, together with their sons Sylvester and Joseph runs this iconic Chenin-ship. Same as all the others, the 2015 that's just been bottled, tasted fantastic. So ready, so intense fruit with so fresh acidity and a focused mineral finish. Even though they are Chenin-stars, their reds mainly made of Cabernets, but also mixed up with Grollesu and Gamay is something you should not miss out on. 2016 for them is like a hard punch in the face, every centiliter is precious. Very good, but man, what a small volume.
Day 4:
Vamos a la Playa! Le Pallet, Muscadet where the pretty young couple Manuel and Marion makes wines under the name of Complémen Terre since 2013. They now got 8ha, where they own 1 of them-the rest they hope to be able to purchase before the renting contracts runs out (9 year contracts). Their 2015 Muscadet, now all in bottle and tasting great. Luckily they got good volumes here as well, so we'll be able to drink some, at least for the first half of next year. 2016 they got an average of 5 hl/ha instead of their normal 40 hl/ha.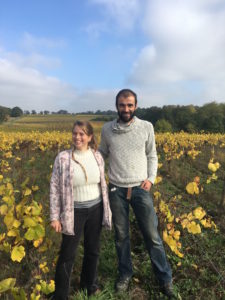 Hey Loire, you rock, thanks for all!!