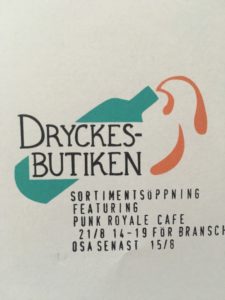 July goes ever so quickly! But now it seems like, more or less, the whole town is back on track.
Last week our whole crew started of, and now we are preparing for an exciting autumn.
We start with a trade tasting the 21:st, where we will launch 8 new producers:
Clos de Citots, Cider maker of both pears and apples
Mauro Vergano, Vermuth
Wine:
Maison Romane, Burgundy
Frantz Saumon, Loire
Pierre-Olivier Bonhomme, Loire
Eric Texier, Rhône
Francois Dumas, Rhône
Mahara, Sanlúcar de Barrameda
And there will be other wines from our 'old' producers as well to taste.
Famous chefs Jocke and Kalle from Punk Royale will serve lunch with inspiration from their new Café Punk Royale that opens up in the end of this month.
Feels like a good start, see you soon!!