Drood, Shiraz – Zagros Mountains
Shahram Soltani is a man with a plan and guts. Or the way he explained it himself
"I'm a smart guy with a good idea!" Since consuming wine in his native Iran is forbidden by law he came up with an idea to be able to start making Persian wine professionally.
He decided to somehow take the grapes out of his motherland and make the actual wine elsewhere, Gemla in Sweden to be precise.
Life has a funny way of guiding us on our designated path and faith had it that hosting couch surfers would play a major part in Shahrams's way into winemaking. Vineyards and farming had always been part of his life growing up but initially his career was within petroleum engineering and working on oil riggs. However, through a French tourist from Hermitage that was snoozing on his couch a dialogue about wine started. This led Shahram to France and further immersion into the amazing world of fermented grape juice. Eventually he decided to do it, he was going to put Persian wine on the map again through a winery in Växjö.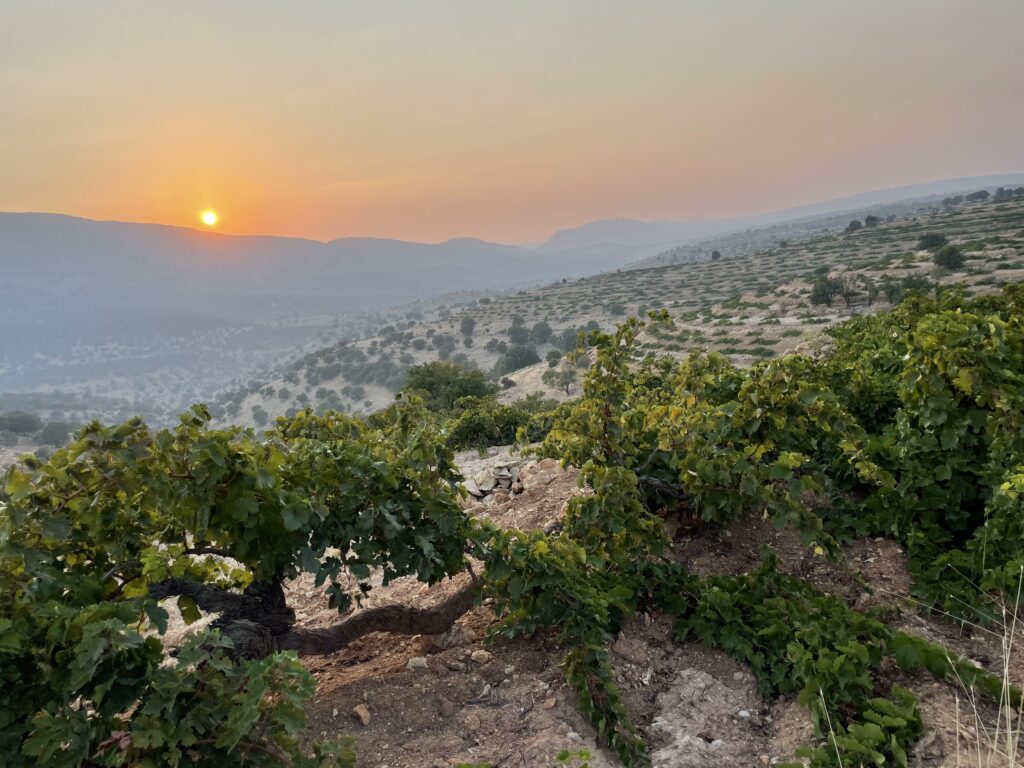 A brief history of winemaking in Persia
The Zagros Mountains where Shahram sources his grapes from are located in South-Western Iran. This mountain range has a total length of 1,600 km and reaches up to Iraq and Turkey. Scientists have here found traditional winemaker's clay jars dating back to the Neolithic period more than 7,000 years ago and provide the first scientific proof of the ancient nature of Iranian wine production.
Before the Islamic Revolution in 1979, there were up to 300 wineries in Iran; now there are none. Wine was prior to this produced for the local market and to export as well.
Inside the country there are no operating wineries, but Persian people never stopped loving wine. It's a part of the culture and valued by society. Due to the strict government rules banning alcoholic beverages you cannot find wine culture in Iran today…in public. Secretly though people produce wine at their homes using ancient knowledge and procedures.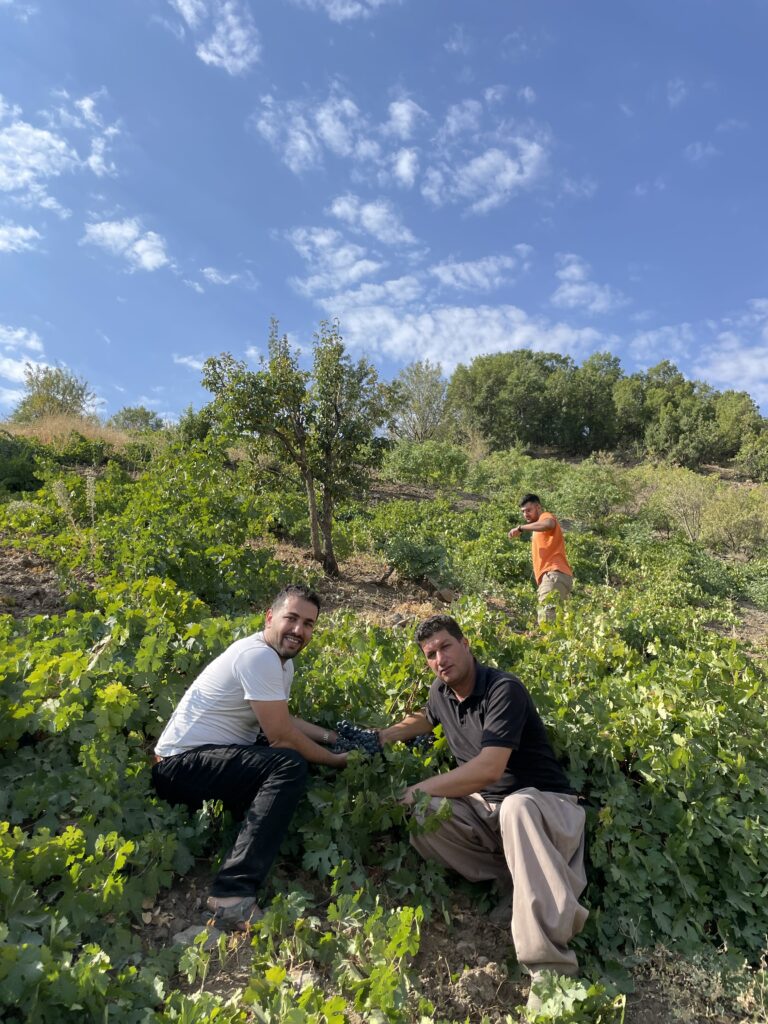 The method
The tools and techniques of Shahram's winemaking is modern but with the aim is to produce classic Persian wines. All grapes used are imported directly from the farmers of the Zagros Mountain region around the Shiraz area. The varieties are native to the land where they have been growing for hundreds of years, escaping disease such as phylloxera. High altitudes (starting from 2000m) and dry land farming methods makes way for healthy grapes rich in sweet fruit combined with crisp acidity.
When the grapes have been harvested (in September) the grape material is frozen around 2 hours after picking to be able to ship to Sweden. In the winery careful temperature-controlled defrosting takes place with the help of carbon dioxide.
The end result is clean, fruit driven and vivid with a distinct sense of belonging.
Vintage 2021 is the first one for Drood wines and we can't wait to follow Shahram on his journey!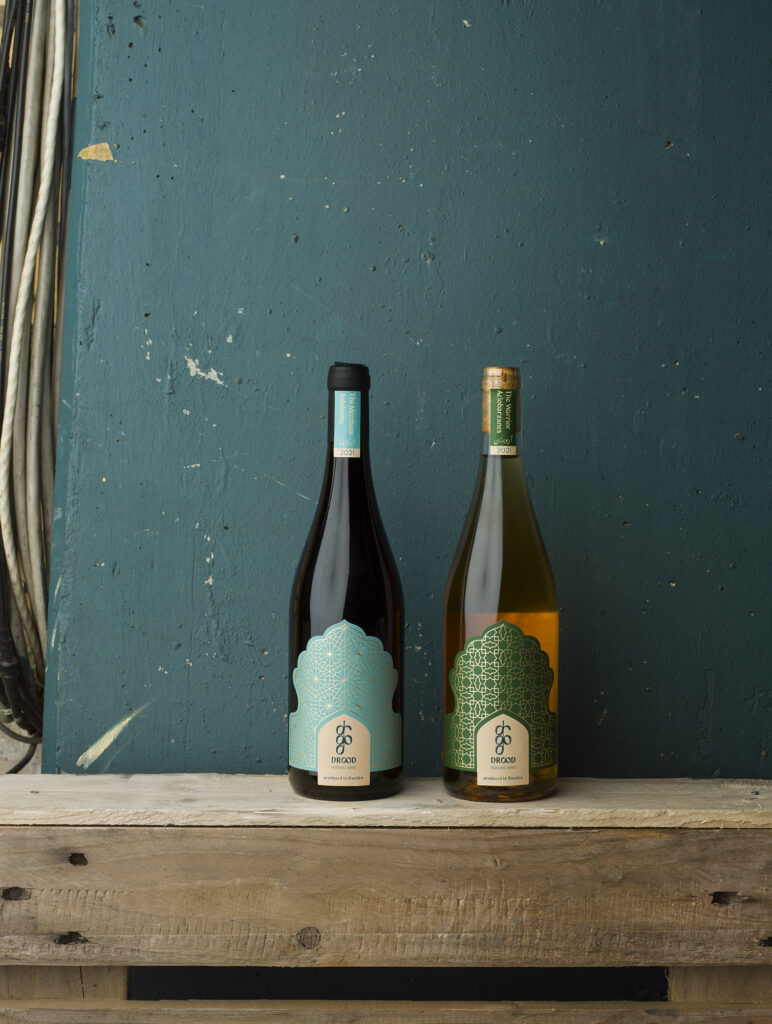 2021 The warrior – Ariobarzanes
Soil: Loess with limestone bedrock
Grape: Lorkosh
Appellation: N/A
Age of Vines: Planted in 1962, ungrafted vines. Elevation 2150-2450 meters 
Vinification: The grapes were pressed by feet in Iran following by freezing of the juice, that was then shipped to the winery in Sweden. After the defrosting process the wine was aged for four months in French oak barrels before bottling. Some battonage was carried out.
No filtration.
---
2021 The Unique – Youtab
Soil: Loess with limestone bedrock
Grape: Lorkosh
Appellation: N/A
Age of Vines: Planted in 1982, ungrafted vines. Elevation 2150-2450 meters
Vinification: Maceration of the grapes on the skins for 8 days, with three punch downs every day. After press the wine rested on the lees for 4 months in stainless steel tanks and a following 5 months off the lees before bottling.
No filtration.
---
2021 The merchant – Irdabama
Soil: Loess with limestone bedrock
Grape: Samarghandi
Appellation: N/A
Age of Vines: Planted in 1982, ungrafted vines. Elevation 2050-2250 meters
Vinification: After harvest the grapes were frozen in preparation of being shipped to Sweden. After defrosting the grapes macerated for about a week before press. Aged in stainless steel tanks for 9 months before bottling. No filtration.
Extras: Drood means cheers in the old Persian language.