In the end of June I had the possibility to go with a couple of friends to this, for me, alien region (I´ve only been reading about it a long time ago when I could call myself a sommelier).
Because I like to work with handcrafted, natural products, I never considered Bordeaux as an interesting region… Thank god ideas can be wrong!
So, within 2 weeks we will both have wines from Clos du Jaugeyron and Chateau Planquette.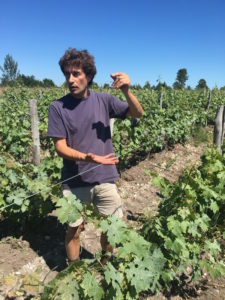 From Michel and Stepahanié, Clos de Jaugeyron we will start of with 2012 Margaux Nout and 2013 Medoc.

From the the mythical Didier Michaud we where able to bring some 2013 and 2014 Planquette Rouge. That's the only wine he makes, focus on that one wine since 1973, no wonders this tastes like a hit you never get bored of!
We will later this autumn also receive some St Emilion from Chateau Meylet.
Read more about all these guys under producers if they make you curious.
We are all looking forward to greet the autumn with a some great red Bordeaux wines, a pleasant way to escape from the coming cold!
More vintage report for those of you that cares: While visiting Bordeaux in June it was really hot, but that was good because the spring and the beginning of June was sustained with rain. Almost all Bordeaux was flooded when we arrived, and all producers we met was fighting the mildew.
But he heat stayed, and no rain at all since mid June, so 2016 from here will be a very small quantity with high ripeness..