Andrea Scovero, Bionzo
Andrea Scovero lives in Bionzo, a small village with only 100 citizens, located in Asti Piedmont. He is the fourth generation farming the 6 hectares and learned everything from his grandfather. Today he has 20 years of experience himself. He makes two grappas from the skins of two wines in his portfolie.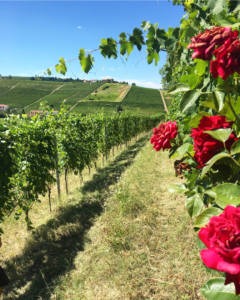 His Vermouths are a blends of spirits, sugar, spices and Barbera wine. Andrea made the recipe for the Chinato based on old family history and being the first one to sell it makes us very proud! After the success it had here in Sweden, Andrea made another traditional Italian Vermouth, perfect when making our beloved drink – Negroni.
Both are fruity and fresh with integrated spice and sweetness, the ABV is 18 % for both of them.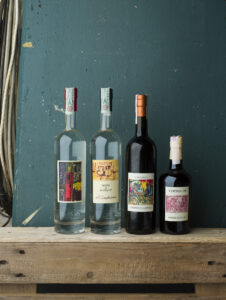 Barbera Grappa
Made from the skins of his 'Ciapin' barbera wine. Floral, fruity and aromatic with a long length. The ABV is 42%.
Nebbiolo Grappa
Made from the skins of his 'Il Clown' Nebbiolo wine. A lot of power with big structure. A higher ABV at 45 % leaving you with a balanced heat in the finish.
Chinato
Made with 'Ciapin' wine, spiced with china bark, star anise, quassia wood and wild cherry. You also find a citrusy note from the mandarin zest.
Vermouth
Made with 'Ciapin' wine, spiced with orange and lemon peels, gentian, rhubarb and cinnamon.