A few weeks ago we went out in the Swedish archipelago to a beautiful island called Möja. This island is full of life and stories from people that lives here. One of them is Joakim Khilberg who runs Långviks Krydderi. Already in the fall of 2016 we started talking about making a signature gin for Sprithyllan. Joakim had never made a gin before but has a long experience of making snaps, vodka and his most famous creation, Möja taffel.
Joakim came to Möja over 20 years ago and met someone that came to change his life completely. That someone was the mysteries and adventurous Karl Ivan 'Jeppe' Lindfors. An old sailor that spent most of his adult life on the seven seas but later in life settled down on his favourite island – Möja. It only took ten minutes after their first meeting until it was decided that Jocke was going to rent an old house owned by Jeppes family situated on a cliff overlooking the beautiful little harbour that is Möja. This was not only a start of a close friendship but also the start of a business focused on Swedish traditional spirits. Långviks Krydderi was borned.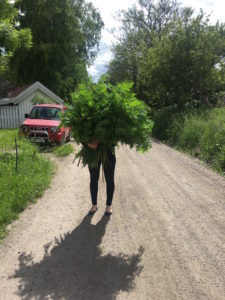 Jeppe taught Joakim everything about the island and especially about an herb that was well established on the island, Spanish runaway, also called the green gold. The herb was frequently used for a long time, in everything from cooking to medical purposes, but today it's mostly considered a well spread weed. The flavour reminds us of anis and has a natural sweetness to it.
The choice of using Spanish runaway in our gin was obvious but it's not the only thing growing on Möja. You can find all sorts of things. Berries, various herbs and flowers – which makes it the perfect place to make a gin. The main ingredients are also juniper (obviously) and peppermint – all of it growing just outside the distillery.
We spent the day harvesting Spanish runaway, picking junipers and learning how to extract flavours through soaking herbs in high ABV alcohol. After a year of tasting different batches and extracts, the gin is finally done. The result is a dry gin with prominent juniper flavour, deep herby flavours and citrusy notes, we hope you'll love it as much as we do!