Anne and Pierré-André Déplaude – Les Déplaude de Tartaras, Tartaras
These guys used to be dairy farmers in this little village located just south of Lyon. Sandwiched between northern Rhône and southern Beaujolais. This very un-famous appellation where planted with over 20 000 hectares before the phylloxera. After that there were not many people that re-planted, today the total surface under vineyards is just 20 hectares.
In 2003 Anne and Pierré-André where through with the milk industry and started to plant their land with vines. Today they have 5,7 hectares of vines on the steep schist slopes on the top of the hill where the village of Tartaras is situated on the plateau and where they got their small vinery.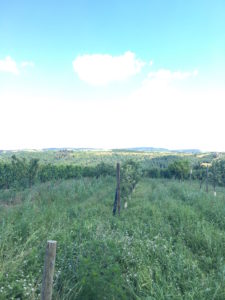 They planted the land with the 10 different grapes that was grown here before phylloxera (5 of them are almost unheard of) and which are also allowed within this area.
They made their first vintage in 2004 and has since 2007 been working 100% organic and since 2009 also biodynamic. They normally sell their annual production of around 19 000 bottles locally to private customers and on wine shows so we are really happy to be their second export customer.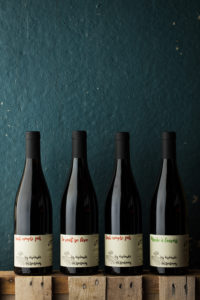 These wines are really like something we've never tried before.
The reds are elegant, fruit driven and mineral with very fine tannic structure. The whites are fruity, fresh with a nice bitterness.
2015 Les Yeux Fermés
Soil: Mica schist with gravel.
Grape: 50% Roussanne 50% Jaquerre
Appellation: IGP Collines Rhodaniennes
Age of Vines: 5-7 years old.
Yields: 40 hl/h
Vinification: Direct press, then fermented and aged 6 months in concrete tank before bottling. 1000 bottles produced,  we had to fight down an American importer to get 120 bottles.
The name means: With closed eyes
---
2015 Le Monde à l'Envers
Soil: Mica schist with gravel.
Grape: 1/3 Ravat, 1/3 Clairette, 1/3 Viogner
Appellation: IGP Collines Rhodaniennes
Age of Vines: 5-7 years old.
Yields: 40 hl/h
Vinification: Direct press, then fermented and aged 8 months in old barriques before blending and bottling.
The name means: The world is upside down
---
2015 Ciel d'Orage
Soil: Mica schist with gravel.
Grape: 70% Gamay, 20% Syrah, 10% Pinot Noir
Appellation: IGP Collines Rhodaniennes
Age of Vines: 15 years old.
Yields: 40 hl/h
Vinification: Partly de-stemmed, partly whole bunches ferments together. Some semi maceration carbonique also takes place. After around 2 weeks of maceration, pressing and blending follows. Then ageing for 9 months in concrete tanks before bottling.
The name means: Stormy sky
---
2015 Tout Compte Fait
Soil: Mica schist with gravel
Grape: 90% Pinot Noir 10% Syrah,
Appellation: IGP Collines Rhodaniennes
Age of Vines: 5-7 years old.
Yields: 40 hl/h
Vinification: 80% of the grapes are de-stemmed and fermented together with 20% of whole bunches for 20 days before pressing and continuously ageing for 9 months in old demi-muid before bottling.
The name means: All together
---
2015 Le Vent se Lève
Soil: Mica schist with gravel
Grape: Syrah
Appellation: IGP Collines Rhodaniennes
Age of Vines: 5-8 years old.
Yields: 40 hl/h
Vinification: Partly de-stemmed, partly whole bunches fermented together for 2,5 weeks before pressing and blending. Then aged for 10 months in old demi-muid and barrique before blending and bottling.
1300 bottles made
The name means: Sales are rising