Domaine des Marnes Blanches, Saint Agnès – Jura
Géraud and Pauline Fromont are two brilliant winemakers who met in viticulture school 2006 when they were in their early 20's. Just two years after they first glanced at each other, they fulfilled their dreams and bought a vineyard in Cesancey, southern Jura. The region was quite a natural choice for two natives of the Jura – considering everything this land has to offer.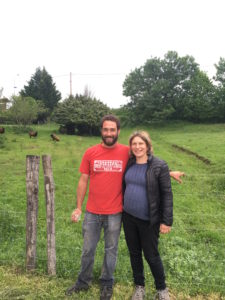 Domaine des Marnes Blanches is named after the white marl found in the first vineyard they purchased. Today they have 10 hectares in total spread out on three villages: Cesancey, Vincelles and Sainte Agnès.
They work hard making a wide range of wines consisting of both traditional Jura style oxidized whites and topped up modern reds, macvin, vin de paille and marc. On top of it all they have 3 small children to take care of.

Their Marc is mades with Jensillard Savagnin and has been aged on glas since 2012. The marc is distilled in a small pot still in their neighborhood village and is aromatic with a smooth mouthfeel and a distinct finish.
Domaine des Marnes Blanches 2012 Marc Jensillard comes in a 70 cl bottle and has an ABV of 50 %.