Staibano, Amalfi cost
When you manage to find a guy who takes care of his great grandfathers' old recipe made out from Amalfi lemons that tastes like heaven, you get excited. Thank you Cesco for continuing this tradition, and also for letting us get a piece of it!

The story of Staibano Amalfi Smooth dates back to 1932 and is a creation of Don Vincenzo Staibano. It all started with his lemon groves, located on cliff-side terraces at the Amalfi coast. The harvest still to this day is done by hand and carried down the mountain in 70 kilo bags.
All the lemons used in Staibano is picked from the same place and the trees has been in their family for generations. No pesticides have ever reach the ground and the lemons are origin protected under Amalfi lemons I.G.P.  They are called 'the queen of lemons' referring to their intense fragrance and balance of acidity and sweetness.
Everything is done by hand, from the peeling of the lemons to the labeling of the bottle.
Since 2015 Don Vincenzos great grandson, Cesco Amodio has been in charge of both production and sales.
Staibano Amalfi Smooth, 70cl, 17%
The product: It's a mix between raw alcohol, lemon juice, sugar and pasteurized milk. Because of the heating of the milk, this liqueur doesn't curdle when mixed with fresh lemon juice. It can therefore easily be enjoyed both in drinks and on it's own.
---
Mauro Vergano, Asti, Piedmont
It all started as a hobby for Mauro Vergano. He developed an interest in traditionell Piedmontese fortified wines and spirits and started to produce his Chinato for family and friends in the 1970's. A few years ago, he decided to keep the tradition alive and go pro. The result, after more than 20 years of small experimental production, is four unique products. The secrets is said to be the the perfect balance between carefully picked wines, aromatics and sugar.
Vermouth

The grape varieties are Moscato from Gianluigi Bera and Cortese from Stefano Bellotti, to make a balance between acidity and flavor. The wine is blended with raw alcohol and wormwood and when it comes to the herbs it is a mix between thyme, marjoram, basil and oregano.
A very traditional Italian vermouth that is sweet, slightly bitter and light yellow
---
Americano

A traditionell Piedmontese vermouth with that bitterness made from the red local Asti grape Grinolino from Casina Tavjin. Contains wormwood and bitter elements of citrus and bitter orange zest followed by gentian root.
---
Chinato

The base is Nebbiolo from Barbaresco, from the producer Giuseppe Cortese.
The wine is two years old and mixed with china bark followed by a spices and herbs such as cinnamon, cloves, cardamon, coriander, Chinese rhubarb and ginseng.
---
Luli
A white Chinato made out of Moscato d'Asti (with a the alcohol content over 10%) from Gianluigi Bera.
With citrus zest, cinnamon, vanilla and china bark it is given a unique flavor with fresh- and sweetness.
---
Andrea Scovero, Bionzo, Piemonte
Barbera Chinato 2015
(arrives in June 2016)
Barbera wine that's blended with grappa, sugar and spices and then bottled. Andrea made the recipe based on old family history. This is a light, red fruity Chinato with fine freshness and a lot of citrus zest tones.
---
Cascina delle Rose, Barbaresco, Piemonte
Both these grappas are white, only aged on bottle after distillation. This is not for the ones that search for the real tough stuff. They have both fine, flowery aromatics and refined, straightforward fruity taste with a round finish.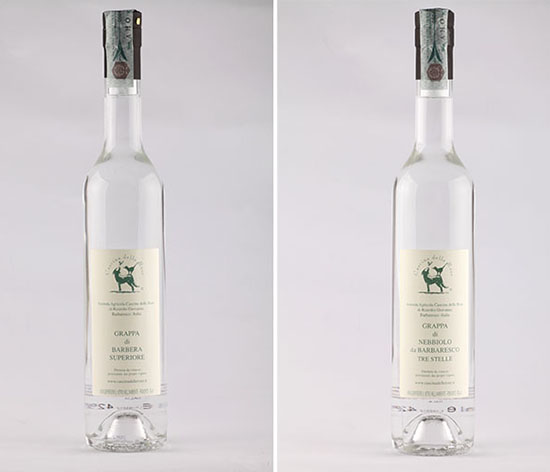 Grappa Barbera
(arrives in autumn 2016)
---
Grappa Nebbiolo
(arrives in autumn 2016)