Torre alle Tolfe, Siena
Sergio lo Jacono was early to work organically, already in 1979 he converted his first domaine.

He has kept on doing that ever since and for 13 years he has been in charge of the wines and olive oil at Torre alle Tolfe.

This beautiful, old estate is located just outside beautiful Sienna and has 100 hectare of land, 8 hectares with vines and 16 hectares of olive trees surrounded by forest. Sergio is also planting another 4 hectares right now, that will be in production within 5 years.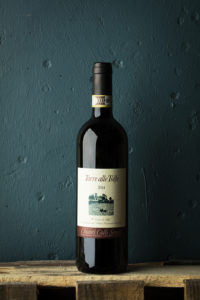 Elegant, classical expression of Chianti for everyday drinking.
2016 Chianti Colli Senesi
Soil: sandstone, clay and limestone, south-eastern and western slopes at 305 m of altitude
Grape: 80% Sangiovese, 10% Canaiolo, 10% Colorino
Appellation: Chianti Colli Senesi DOCG
Age of Vines: 5-18 years
Yields: 40 hl/ha
Vinification: Destemmed, then fermented for 10 days for Sangiovese and 7 days for Colorino and Canaiolo with the skins. After pressing ageing took place in concrete tanks before bottling in June 2017.