Lionel Gauby – Eau de Souche, Calce
'Fresh Prince of Calce'.
Lionel is born and raced in the tiny village of Calce on a hill squeezed in between the Corbières and the Pyrénèes, French Catalonia. He has been making wine together with his father at Domaine Gauby since he was 13 years and more or less full time since he was 15 (he didn't like school that much).
Since 2010 he is fully responsible for the vinification at Domaine Gauby and the wines has improved every year since then. So, Eau de Souche: Lionel felt he needed to do something by himself with maximum freedom and sees this first own project of his as a kind of therapy and a possibility to get away from the family business for a while.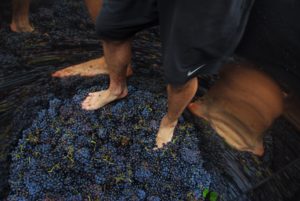 2015 is his first vintage, made in the old cellar that Tom Lubbe at Domaine Matassa had used until then. When Tom moved out to get something bigger and slightly more proper, Lionel took the chance and made it 'his chateau'. He bought a few tanks, a manual press and brought one concrete pyramid invented by himself with him. All work is done without any electricity in this tiny little place. All fruit are bought from Domaine Gauby and from a friend who works organic in the Espira d'Agly valley.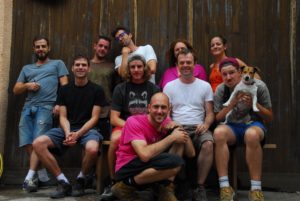 We are very proud and happy to be Lionel's first importer, we love this vibrant, energetic wines, light but with depth and lots of pure fruit.
2015 Le Monde est une Ferme
Soil: Schist
Grape: Grenache Noir
Appellation: Vin de France
Age of Vines: 30-80 years old.
Yields: 30 hl/h
Vinification: Whole bunch fermentation with the skins during 10 days for the younger wines (70%), and 10 weeks for the oldest remaining 30%. It's then pressed manually and aged in stainless steel tanks before botteling in April 2016.
2000 bottles produced.
---
2015 Wokety Pokety
Soil: Calcaire and shist.
Grape: 80% Syrah, 20% Cinsault (pied franco)
Appellation: Vin de France
Age of Vines: Syrah 30 years, Cinsault 3 years
Yields: 20 hl/h
Vinification: Whole bunch fermentation for 10 days, and then aged in stainless steel tanks and concrete pyramid, bottled in April 2016.
1000 bottles produced.