Domaine Roally, Viré-Clessé
The 4 hectares Domaine Roally was until year 2002 owned and farmed by Henri Goyard. Henri was one of few growers that worked organic and bottled quality wine here during the 80:s and 90:s, when the others mainly where selling as it's best drinkable wines to the local co-ops.

 He wanted his tiny Domaine to live on in the same spirit as he had created, so he chose to sell it to Gautier Thenevet. Gautier is the son of his good old friend Jean Thenevet of Domaine de la Bongran and Domaine Emillian-Gillet and Henri felt confident that he would continue the work in the same way he always had done.
And that's exactly what Gautier does, only change is that the wines are made in the Thenevet winery in the tiny village of Quintaine today. Also the wines are now made in horizontal stainless-steel tanks rather than vertical, and bottling is done after 15 or 16 months instead of 11.
Gautier is also, since year 2000 responsible for his family Domaines Domaine de la Bongran and Domaine Emillian-Gillet, so he keeps himself occupied, but masters it perfectly. His father Jean is still around to help out. It's one single plot with 55-year-old vines on 200 meters altitude in the commune of Viré, on a beautiful slope that faces the river Saône.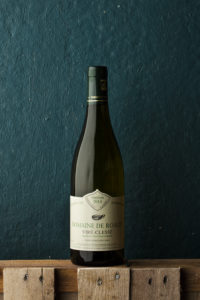 There is one single white wine produced which is ripe, with big yellow fruit, nice acidity and minerality to balance the intense fruit.
2021 Viré-Clessé Blanc
Soil: Limestone.
Grape: Chardonnay
Appellation: AOC Viré-Clessé
Age of Vines: Planted in 1965
Vinification: Direct press before slow fermentation for 1 year in horizontal stainless steel tanks. The wine rests on its lees for 4-5 months before bottling.