Gautier Thenevet – Domaine de la Bongran, Clessé
Gautier is the 5:th generation that runs the Domaine de la Bongran in the small Village of Quintane, just outside Clessé. His father Jean Thenevet took over the 4,5 hectares vineyards planted on clay and white marl subsoils in 1972 when Gautiers grandfather wanted to retire.
Jean did, together with famous guys like Marcel Lapierre and Pierre Overnoy, a massive work to develop the philosophies of oragnic farming and minimal intervetion winemaking throughout France in the early 80:s.
His son Gautier started to work by his s ide in 1996, and is since year 2000 responsible for both the vineyards and vinification, but has Jean around to help out. Gautier has a hand full of work, because he also runs the Domaine Emillian-Gillet that Jean created in 1988 and also the Domaine Roally which he purchased in 2002.
The vineyards is on 250-300 meters altitude and the age of the vines are 5-80 years old, in the commune of Clessé, on beautiful slopes that has a rare microclimate that certain years also enebles them to produce a sweet, botrytisised wine.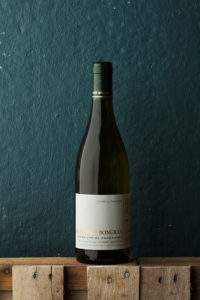 There is one single dry white wine produced every year, and it's a very unique expression of Chardonnay. Grapes here mature much later and produce a wine which is naturally rich in fruit and body, bright in minerality and acidity and has a few gram of residual sugar.
2011 Viré-Clessé 'Cuvée Tradition'
Soil: White marl and clay
Grape: Chardonnay
Appellation: AOC Viré-Clessé
Age of Vines: 5-80 years
Yields: 25 hl/ha
Vinification: Direct press before slow fermentation for nearly 2 years in horizontal stainless steel tanks. Then they move the wine from its lees and keeps on ageing it on tank one more year. After bottling they bottle age the wine 2 years before release, to enable the true sense of the origin come through.