Château Lamery, 
Saint Pierre D'Aurillac
This estate was bought by Jaque Brouettes grandfather in 1935 to grow fruit. The first vines were planted 1942, and Jaques father continued to plant vines when he took over. Today they have 4,2 hectare of vineyards here.
Jaques father is today 93 years old and can't prevent Jaques to work naturally in the vineyards, even though he wants to (according to Jaques, he loves chemicals and thinks that everything looks to green and untidy nowadays.)
Jaques used to be a sales represantative for a computer company, until 2005 when he decided to retire, and 'only' make wine. He started with the vineyards and wines as a weekend job already in 1998 and lived in a caravan on his father's lawn for 8 years before he moved here full time.
The first 2 years Jaques worked conventional, but knew it was wrong and stopped working with chemicals in 2000. 2005 was the first vintage that the wine made was put into bottle and not sold off in bulk.
In 2006 Nicolas Jolys book 'wines to the sky' came in to the hands of Jaques, and then he got 'Biodynamie-baptised'. Since 2008 everything is farmed 100% Biodynamic.

Apart from the Biodynamic treatments, Jaques also treats the wines with 8 minutes of music every day. According to Jaques the mortality of the wines has gone down with 80%. All planting is done with 'marcottage', to keep the exact same clones that were planted originally.
There is a lot of work and luckily for Jaques he gets help from a fantastic 87-year-old lady that really is something special.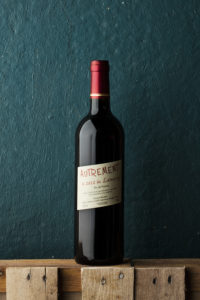 The red wines are flirty but at the same time quite rustic, with a lot of prominent fruit, fine tannic structure and nice freshness. Classic Médoc aromatics, as in the old days, which we love!
The whites are intense, fruity, mineral and with a nice roundness to them.
2015 Sémillant
Soil: Sand and limestone.
Grape: Semillon
Appellation: Vin de France
Age of Vines: Unknown
Yields: 25-30 hl/ha
Vinification: Direct press and then fermentation and ageing on fiberglas tanks. Bottled in august 2016.
---
2012 Autrement
Soil: Sand and limestone.
Grape: 40% Cabernet Sauvignon, 40% Cabernet Franc, 10% Merlot , 10% Malbec
Appellation: Vin de France
Age of Vines: Planted between 1942-1998
Yields: 25-30 hl/ha
Vinification: Everything is destemmed and then macerates on the skins for 3 weeks in concrete tanks with light pump over every day. The free run juice is then transferred to old 600 liter barrels and the cap gets a light pressing before blending with the rest. Ageing on barrels until september 2013 when blending and bottling took place.