Karin Hillström, Östersund
Have you met Karin?
If not we hope you soon get to know her, she is super fun and sharp, plus that she creates great, tasty drinks. Born in Östersund, in the middle of Sweden, even though many of us from Stockholm believes it's far up in the north. She went to sommelier school at Grythyttan and after that she became a part of the crew that worked from the start with the former two-star Guide Michelin awarded 'Mathias Dahlgren Matsalen'.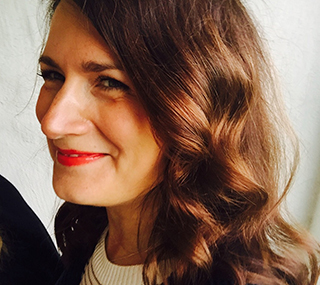 After a while she got fed up by Stockholm, and longed to get closer to nature, so she moved to Åre. She stayed there and worked as a restaurant manager at both Dahlboms på Torget and Copperhill for more than 5 years. Since 2013 she has been the restaurant manager at Fäviken Magasinet and moved to Ås, just outside Östersund in 2014.
Karin is preparing the planting of her own orchard which will be filled with apple trees. The enticement with growing apples in a cold and challenging growing zone is that even though the trees gives a lower yield they have a higher, more aromatic taste due to the very long days and amount of sunlight they get in summer. Also the cold winter helps to keep the amount of pest's low, which makes it easier to work organic.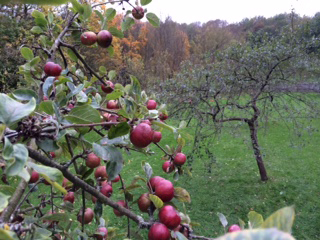 The big interest for Swedish fruit and berries came already when she was a kid, born and raised by a foraging and gardening mother.
Her first distillate is made in a collaboration with Clars Wernerson at Qvänum Mat & Malt. It's made with apples from all over the area of Jämtland, picked in the wild and in friendly neighbours gardens, grown without fertilizers and pesticides.
It's naturally fermented and distilled to an ABV of 43 %. It's the perfect avec for those who enjoy a fruit distillate with pure, raw and distinct flavours of apple. The total amount of bottles produced in 2017 is 5, making it very exclusive this year, but well worth having if you find it at your local restaurant.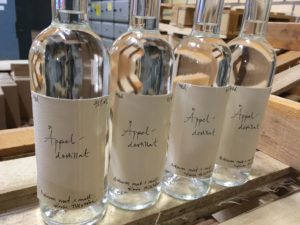 This white apple distillate is just the beginning of many of fruit distillates arriving in the next years when the harvest is more generous, so stay tuned for more delicious drinks, from Karin in a near future.