Met up with Francois Dumas in Saint-Pierre-de-Boeuf where he has his 0,9 ha of Condrieu planted.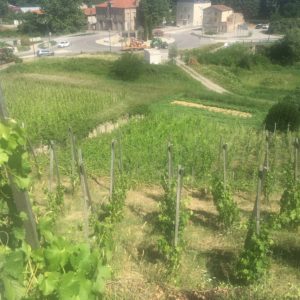 When he bought this parcel in 2010 it was cherry trees and bush planted on this little hill overlooking the village.
So, there was quite a big chunk of work for him to take out the trees and replant with selection massale Viogner in 2010 and 2011.
Since that day there has been few days he hasen't spent working in the vineyards or in the vinery-this is a one man show and he has in total 2,9 ha today. 1 ha in St Joseph that he also bought 2010, and same as with the Condrieu parcel, it wasn't planted before (he couldn't afford planted vineyards in those famous appelations). In 2013 he purchased tha last piece of what today is his domaine, 1 ha of already planted Gamay and Syrah on a spot between his St Jo and Condrieu vineyards that he makes Vin de Pays from.
We took a stroll over the hill, and talked about this vintage-which for him luckily looks good both for quality and quantity.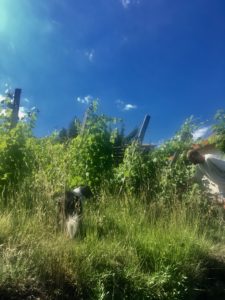 Then we drove up to his vinery in Varenne, situated 5 kilometers up the hill towards Saint Joseph. This is where Francois grew up, and it's in the basement of the restaurant that his mother runs(Francois Dumas spent his childhood in that restaurant, and this is where his interest of wine first started) that he has his vinery.
This is least to say a cellar of the smaller scale, and everything here is made by hand. (To pick up our first pallet here in 2016 took more than 5 weeks because Francois never exported before and didn't have the equipment to load a pallet on a truck, but eventually we sorted that out.) We also needed to go here to get the hand printed invoice for the last shipment that just came in to Sweden.
The labelling machine is one of the older ones-but Francois doesn't want to have the horrible noice of a bottling line close to him or his wines.
He also hopes that his mother, that soon will retire, will be restless and help him out with this pretty time absorbing work..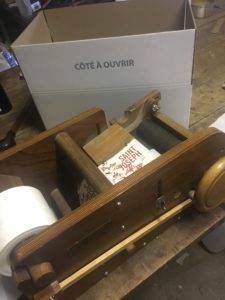 We tasted 2016 from the barrels, and like this vintage in general there is a lot of accessible fruit well balanced with fine acidity and freshness. And as all wines he makes they has such a pure and true taste of the northern Rhône, that really moves us.
He will bottle his 2016 in May 2018, our allocation of 2015 that we just got in to Sweden, is already more or less sold out unfortunantely.
 So, we already long to receive our third vintage from this secret guy in the mountains.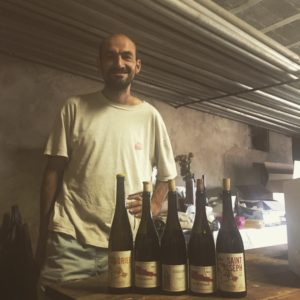 Are you more curious about this guy and his wines, check him out under 'producers'.