The day started with me meeting Paul and Chrystelle, Domaine Miquettes in Cheminas.
They are happy, 2017 is a year which gave them a good yields on the Syrah from all their plots, only the Viogner next to their house got lost in springfrost (and for this year and being in France, that's really a luxury..)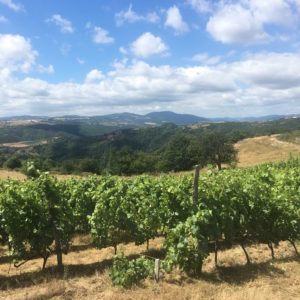 We hit the road, and drove over to their 1 ha of vineyard just above the Village of Arlebosc, Ardeche – a few kilometers from their home in Cheminas. This plot is 400 meters above sea-level, the soil's composed of sand, mica schist and granit. Planting was done by Paul, now 13 years ago, and they make their Vin de France Syrah from there, which we got our first vintage of to Sweden.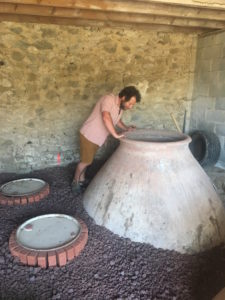 Then we went to see the cellar they bought in the beginning of 2017, to enable them to vinify all reds on amphora they needed more space. To bury these 5000 liter amphora's in the ground wasn't at all the less challenging, work-to clean them in the future will also be quite a task. There is also a dozen of 600 litre amphoras buried.
One really interesting thing with this place is that's there is a house just across the yard from the cellar that Paul and Chrystelle plan to transform to a restaurant and wine-bar within a year or two. They are tired of that there is no decent place to eat or drink if you don't want to spend an hour in the car. I'm more than excited about this of course, one more good thing with the northern Rhône, to be able to eat well some where.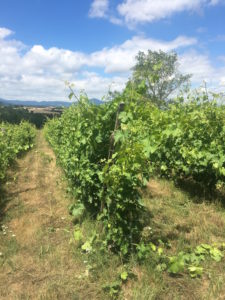 We went back to their house and looked at the newly plantations of different whites. One plot with various indigenous varieties from Georgia (yes, Paul and Chrystelle loves Georgia, natural born hippies as they are – read the Madloba story under our producer page if you are curious). Paul smuggled these vines on a plane when he went back from one of his trips to that magical country, really excited to try the wine in the future.
They also planted Chenin Blanc, Gewürtztraminer, Marsanne, Rousanne, Gamay and Reyondor (an old hybrid that's local here and apparently very good) – the result of this cocktail we will probably see within 2-3 years.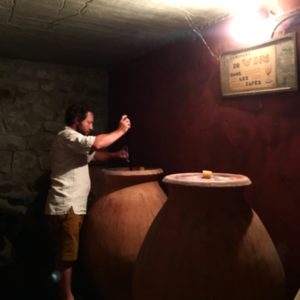 We finished off with barrel samples of 2016 Madloba and Saint Joseph that will be bottled this autumn-delicious, direct fruit, with elegance, freshness and that 'true' northern Rhône feeling I have with their Syrah which is easier to feel than to express in words.
After that, a lovely lunch made from their garden and their lamb, thanks a lot Paul and Chrystelle-you are really unique!!