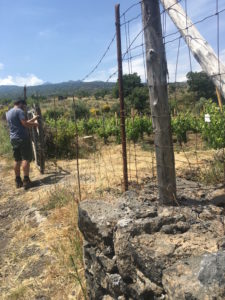 This guy, I've said it before, is a brave one. Here in full action to secure the fence around Zuccucaro vineyard to prevent the shepherds to steal the chestnut wood piles that he uses to support the Alberello trained vines from the wind (Alberello=traditional free-standing vines). The shepherds believe they have the right to all land, so there is a lot of bribing and negotiation going on for everybody that wants to grow stuff on Etna and elsewhere on Sicily. But especially if you are a strange foreigner they don't really care to much about you. Edo is born and raised in Tenerife and moved here, at own risk, to learn to make wine in 2012.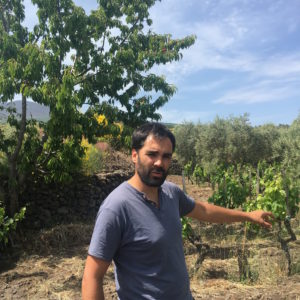 Edo is now looking in to his 3:d vintage making his own wines on Etna, and for this year he's managed to rent 5 different plots with old Nerello Mascalese plants which he finds suitable to make really good wines. (Or mainly Nerello Mascalese, there is always some other reds and whites co-planted in the old vineyards, such as Carricante, Cataratto, Albanello, Minella, Nerello Cappucho, ). Allt the vineyards are on 700-1300 meters of altitude, northfacing and stretching up on the hill towards the vulcano.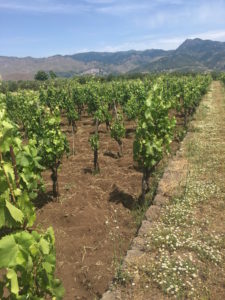 After the sunny morning in the vineyards we drove down to Vittoria, where Edo is making his wines in the vinery of Arianna Occhipini, one of the coolest winemakers I know and also the girlfriend of Edo. The reds from 2016 are still in barrels, and are of course young right now, but has a really good balance. 2016 was the first vintage where Edo made a white wine, and that's just been bottled. The white grapes comes from all Edo's vineyards, and are a mix of the local white varieties. It's amazing, a tasty mix of intense fruit, volcanic minerality and freshness. Funny enough I just asked him earlier that day if he ever thought he could get close to making something similar to the amazing whites that can spring from Tenerife on Sicily, and he said that he didn't know, and that it was a really hard task. But honestly, he's not far away with this wine.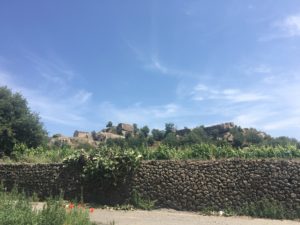 Very happy that we'll get some of this whites together with his 2015 Versante Nord and 2015 Pirrera this autumn! Thanks Edo for the wines, and Sicily for the sun!