Veronique Cochran, Chateau Falfas, Côtes de Bourg
Veronique, a precursor when it comes to biodynamic wine in Bordeaux as she started out with this in 1988, a time where trends where working against the nature, not with it.
Veronique is born and raised at Domaine du Chateau Gaillard, Saumur. She learnt biodynamic farming and winemaking from her father Jaque Bouchet that started to work biodynamic already in 1962.
Her brother Mathieu were the one taking over the family estate, and Veronique and her husband bought their own Chateau in 1988.
She farms 20 ha of vineyards and 15 ha forest, that surrounds, protects and give diversity to the vines. She is putting a lot of effort in working the soil and giving back energy to it, hence she doesn't need to fuss around so much in the cellar, there is no need when you have healthy, beautiful grapes.
Chateau Falfas is located in Bayon-sür-Gironde, on the right bank, just in front of Margaux. This chateau was already famous for their wines in the 14:th century, and became very popular in England at this early years of wine export.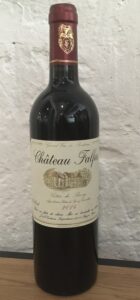 The wines are deep, rustic & delicate, with a lot of energetic fruit, fine tannic structure, good freshness and a nice inky touch.
2014 Chateau Falfas
Soil: Clay & limestone
Grape: 55% Merlot, 30% Cabernet Sauvignon, 10% Cabernet Franc, 5% Malbec
Appellation: AOC Côtes de Bourg
Age of Vines: planted 1985
Yields: 35-40 hl/ha
Vinification: 100% destemmed grapes are getting a slight crush and then put in concrete tanks for fermentation with the skins for 3 weeks. Then a careful pressing takes place, followed by ageing in old oak barrels (500-600 liter) for 11 months before bottling.