Jochen Beurer is showing us around in his different vineyards around Stetten, here is a 20 years old Riesling on Kieselsandstein.
We have just tasted his 2015 Rieslings that still(!) ferments on tanks and barrels.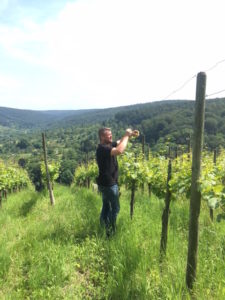 He always works with a long, cold fermentation, but this vintage is unusual. He hopes that they will be ready in July, otherwise it's hard to pay the bills.
We hope so to, they are so vibrant and tasty!
Really high concentration due to the warm climate, but with heaps of freshness and minerals that balances that up and gives the wines a great depth.
Now of to the next village to look at stones in vineyards and taste wines with Andi Knauss.